AMERICA'S FAVORITE FELINES COME FACE TO FURRY FACE
WHEN GRUMPY CAT MEETS GARFIELD!

February 16, 2017, Mt. Laurel, NJ: Dynamite has published the comic book, The Misadventures of Grumpy Cat, featuring "The World's Grumpiest Cat" and her brother Pokey since 2015, selling over one half million copies and winning the hearts of readers of all ages! With her ever-present pout and sassy disposition, Grumpy Cat has become one of the world's most famous felines. Now, her unbearable cuteness and infectious sourpuss comes face to face with the original cartoon cat, Garfield!

An exclusive partnership between Dynamite Entertainment and BOOM! Studios' award-winning imprint, KaBOOM!, will bring Jim Davis' iconic comic strip cat Garfield together with internet sensation Grumpy Cat in a limited series, with a story written by Jim Davis himself!

"Teaming up with Garfield for a comic series is a real honor," says Grumpy Cat. "I hate it."

Nick Barrucci, CEO and Publisher of Dynamite says, "Working with the fine folks at Grumpy Cat has been absolutely wonderful; we've had tremendous success bringing Grumpy to our fans, and helped to grow the comics market with record breaking sales through the direct market, book stores, and Scholastic. Our Free Comic Book Day giveaways drew thousands of new fans to comic stores for the first time. Meeting Mr. Davis has been a highlight of my career and working with him and our friends Ross, Filip, and everyone at Boom! Studios to bring her into the world of Jim Davis' beloved comic strip is a once-in-a-lifetime opportunity. These are the two most famous felines in the world. I can't wait to see what trouble these two get into!"

"Jim Davis approached us years ago asking us to publish the Garfield comic books and it's been a tremendous honor to work with one of the greatest cartoonists of all time and the entire team at PAWS," said Ross Richie, Founder and CEO of BOOM! Studios. "When I met with him at San Diego Comic-Con International this year to discuss this crossover, he was brimming with delight at the idea of these two felines getting together. His enthusiasm and affection for this crossover is infectious! This is going to be terrific fun!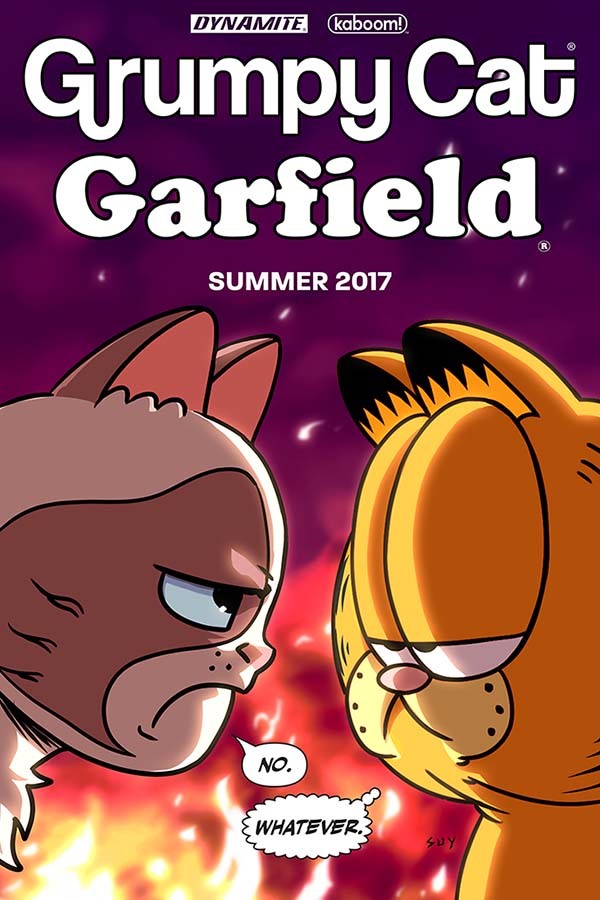 Look for more news about the comic book crossover event of the year in the coming months, with a release targeted for summer 2017!





About Dynamite Entertainment:


Dynamite was founded in 2004 and is home to several best-selling comic book titles and properties, including
The Boys
,
The Shadow
,
Red Sonja
,
Warlord of Mars
,
Bionic Man
,
A Game of Thrones
, and more. Dynamite owns and controls an extensive library with over 3,000 characters (which includes the Harris Comics and Chaos Comics properties), such as
Vampirella
,
Pantha
,
Evil Ernie
,
Smiley the Psychotic Button
,
Chastity
, and
Peter Cannon: Thunderbolt
. In addition to their critically-acclaimed titles and bestselling comics, Dynamite works with some of the most high profile creators in comics and entertainment, including Kevin Smith, Alex Ross, Neil Gaiman, Andy Diggle, John Cassaday, Garth Ennis, Jae Lee, Marc Guggenheim, Mike Carey, Jim Krueger, Greg Pak, Brett Matthews, Matt Wagner, Gail Simone, Steve Niles, James Robinson, and a host of up-and-coming new talent. Dynamite is consistently ranked in the upper tiers of comic book publishers and several of their titles - including Alex Ross and Jim Krueger's
Project Superpowers
- have debuted in the Top Ten lists produced by Diamond Comics Distributors. In 2005, Diamond awarded the company a GEM award for Best New Publisher and another GEM in 2006 for Comics Publisher of the Year (under 5%) and again in 2011. The company has also been nominated for and won several industry awards, including the prestigious Harvey and Eisner Awards.
Dynamite Facebook: http://www.facebook.com/dynamitecomics
Dynamite Twitter: http://twitter.com/DynamiteComics
Dynamite Official Website: http://www.dynamite.com/
Comic Shop Locator Service: 1-888-comicbook, or visit http://www.comicshoplocator.com/
About BOOM! Studios:

BOOM! Studios was founded by Ross Richie in 2005 with the singular focus of creating world-class comic book and graphic novel storytelling for all audiences. Through the development of four distinct imprints - BOOM! Studios, BOOM! Box, KaBOOM!, and Archaia - BOOM! has produced award-winning original work, including Lumberjanes, The Woods, Giant Days, Klaus, and Mouse Guard, while also breaking new ground with established licenses such as WWE, Mighty Morphin Power Rangers, Adventure Time and Jim Henson Company properties. BOOM! will also bring their original series to life through unique first-look relationships with 20th Century Fox in film and with Fox Television. Please visit www.boom-studios.com for more information.



About Garfield:

Paws, Incorporated was founded in 1981 by cartoonist Jim Davis as a creative house to support Garfield licensing. Today, the company, located in rural Indiana, handles not only the creative angle, but also the business concerns of the corpulent kitty worldwide. Paws, Inc. is a privately held company and the sole owner of the copyrights and trademarks for GARFIELD and GARFIELD Characters.

GARFIELD was born on the comics pages on June 19, 1978. The comic strip is centered on the lives of a quick-witted orange cat who loves lasagna, coffee, and his remote control; Jon Arbuckle, his owner; and Odie, a sweet but dumb dog. GARFIELD was introduced to the world in just 41 newspapers and is now the most widely syndicated comic strip ever, appearing in 2100 newspapers. The strip, distributed by Andrews McMeel Syndication, is read by over 220 million people each day and is translated into 42 languages.

The success of the comic strip spawned an entertainment empire including television: Garfield and Friends, The Garfield Show, and a dozen primetime specials; movies: Garfield: The Movie and Garfield: A Tail of Two Kitties; hundreds of best-selling books, and thousands of licensed products.

Garfield's Official Website: www.garfield.com
Garfield on Facebook: facebook.com/Garfield
Garfield on Twitter: twitter.com/Garfield



About Grumpy Cat:

Grumpy Cat's global following includes 8.7 million Facebook fans, 650k Twitter followers, 2.1 million followers on Instagram, and over 40 million YouTube views. Since her photo first went viral in 2012, Grumpy Cat has gone from Internet star to real-life celebrity. She has two New York Times bestselling books, her own merchandise line, and a hit Lifetime movie, Grumpy Cat's Worst Christmas Ever (voiced by actress Aubrey Plaza). Grumpy Cat has made numerous appearances around the world including: MTV Movie Awards, American Idol, The Bachelorette, The Today Show, SXSW, Good Morning America, and WWE Monday Night Raw. Grumpy Cat is Friskies' official "Spokescat"; has filmed videos with Disney, Nickelodeon, and Sesame Street; and appears in commercials for McDonald's and Honey Nut Cheerios.
Find more at http://GrumpyCats.com