KEVIN SMITH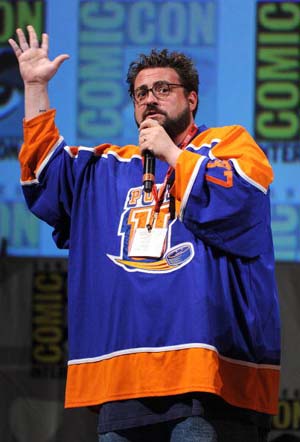 Kevin Smith is an American screenwriter, actor, film producer, and director, as well as a popular comic book writer, author, comedian/raconteur, and internet radio personality best recognized by viewers as Silent Bob. Although primarily known for the View Askew film series, Smith also wrote, directed and produced films such as Clerks, as well Mallrats. His first several films were mostly set in his home state of New Jersey, and while not strictly sequential, they frequently feature crossover plot elements, character references, and a shared canon in what is known by fans as the "View Askewniverse", named after his production company View Askew Productions.
In comics, Kevin Smith is mostly well-known for his stints on Marvel's Daredevil and DC's Green Arrow! In1999, Smith wrote "Guardian Devil", an eight-issue story arc of Daredevil for Marvel Comics, which was illustrated by Joe Quesada. Kevin Smith followed this by producing a 15-issue tenure on Green Arrow for DC Comics that saw the return of Oliver Queen from the dead and the introduction of Mia Dearden, a teenage girl who would become Speedy after Smith's run had ended.
This article uses material from Wikipedia and is licensed under the GNU Free Documentation License.
All material is compiled from numerous sources and may not be accurate. Dynamite Entertainment cannot guarantee the validity of the content.