NOWHERE MAN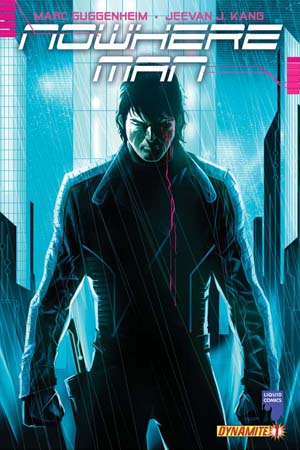 Five hundred years in the future the government monitors everything - including your mind. Everyone on earth has been infected with a nano-tech virus that allows a central computer known as the Omnimind, to tap into and analyze people's thoughts. As a result, all crime has been eliminated from society for decades, until a violent murder shatters the fragile social facade.
Searching for answers, a group of rebels have engineered the ultimate weapon: a genetically altered child, born immune to the virus. With the ability to act undetected, he's the only one on the planet that can elude the elaborate apparatus of the suffocating Ominimind. Now in a society where security is the paramount concern, the hunt is on for the one blip in the system that might bring the whole house of cards crashing down.
This article uses material from Wikipedia and is licensed under the GNU Free Documentation License.
All material is compiled from numerous sources and may not be accurate. Dynamite Entertainment cannot guarantee the validity of the content.